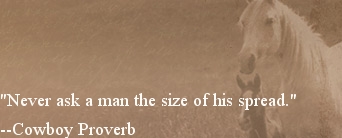 Two Creek Ranch is a family-owned ranch established in 1966. We are a Certified Red Angus cow/calf operation. We run 800+ mother cows on 65,000+ acres of land. We are located 8 miles south of Douglas, Wyoming.

We have been performance testing our cattle since 1970. We were the first to introduce cross breeding into our community.

We were chosen 2002 Landowner of the Year for the Casper Region by the Wyoming Game & Fish Commission.

We market our bred heifers and our Certified Red Angus steers that are age and source  verified, and all natural.